Susan Soifer — Interim Director

I've taught at the Rabbi Mark and Morah Renee Panoff Preschool since it first opened its doors in 2004. After receiving a BFA in Film/TV from New York University, I worked as a film editor in NYC, but when I followed my daughter into her first day of preschool at a temple in northern New Jersey, I realized a new passion; an interest and desire to learn all I could about early childhood education. My new career took off from there. I became a teacher in New Jersey and when my family relocated to Howard County MD, I continued to teach here. Teaching at TIPS lets me combine my joy for Jewish congregational and community life with my love for working, playing, learning, and growing together each day with my incredible 3- and 4-year-olds.
---
Laurie Avrunin — Teacher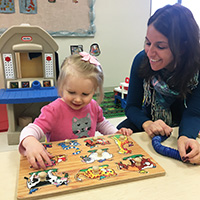 Working at Temple Isaiah Preschool has been such a fun and rewarding experience! Ever since I was a little girl, I told my parents I wanted to grow up to be a teacher. After graduating from Rutgers University with my Master's degree in Elementary Education, I became a 1st Grade teacher at Lansdowne Elementary School in Baltimore County. I taught 1st Grade for five years and 3rd Grade for five years at the same school. When my life forever changed and I had my boys, Brayden (7) and Logan (5), I was fortunate to be able to stay home with them and be a mommy….the greatest gift of all! Both boys attended Temple Isaiah Preschool and had an incredible experience with extremely loving and nurturing teachers. I began subbing in the classrooms and, soon after, teaching the Tips for Tots "grown-up and me" class. This year is my third year teaching this class and I continue to LOVE every minute of watching these little toddlers grow! It's amazing to see their physical, social, and emotional skills blossom from the beginning of the year to the end. They really get to know the school, the classroom, and the routines very well, making the transition to the Twos class the following year much easier. I'm looking forward to my newest adventure in January when I begin teaching the Mid Year Twos class on Tuesdays and Thursdays with several of the children currently in Tips for Tots.
When I'm not teaching, I love spending time with my husband, Brian, and the boys, watching my boys play sports, going to Orioles games, and scrapbooking.
---
Linda Blandford — Teacher

I have a B.S. degree in Early Childhood Education and this is my 20th year as a teacher. I have been teaching at TIPS for nine years, where I teach the Fours class. I love this age group because they are developing a greater sense of self and can be sustained for a longer period of time. They love to try new experiences, and are really beginning to be able to express themselves. Four-year-olds also want to be more self-reliant and independent. They approach the world with curiosity and use their imaginations to help understand it.
I have two daughters; my older daughter is a junior in college and my younger daughter is a freshman in college.
---
Eileen Densel — Teacher

I am very excited to be a teacher at Temple Isaiah! I graduated from The University of Delaware in 1990, and spent 25 years working for The Humane Society of the United States. I have also been a substitute teacher in Howard County Public Schools for six years.
My husband and I were married in 1996 and have three children — Zack, Ashley and Samantha. Samantha attended Temple Isaiah preschool from 2007–2010 and had the time of her life. I love watching children learn and grow, and can't wait to nurture that in your child. In my spare time, I love to walk my amazing dog, Brody; I also like to read and bake.
---
Ruth Fisher — Teacher

This is my 13th year teaching at Temple Isaiah Preschool. Currently, I teach children that are three and four years old. I love working with this age group because there is so much growing that takes place during the school year! They are so excited about discovering the world around them that as a teacher, I cannot help but get caught up in this excitement!
I started teaching kindergarten Religious School at Temple Isaiah 14 years ago and was fortunate to have met Morah Renee, the founder of our Preschool. She invited me to join her staff and I have been happy to be here ever since.
I have two sons, Ben and Daniel, both attending college. My husband, Dave, is an airline pilot. All three of the men in my life are avid hockey fans.
---
Jennifer Hendrick —

 

Teacher

I started as a preschool teacher in 1995, and then went to the public schools to teach kindergarten. When my four boys were born (Devin (14), Ryan (12), Sam (10), and Adam (10), I stopped working and became a private tutor. For the past five years, I have taught preschool fitness classes through Jumpbunch and continued with the private tutoring business. This is my first year as a preschool teacher at Temple Isaiah. I am so excited to be a part of the wonderful staff and looking forward to teaching the amazing children that will be in my class. 
---
Renee Hulem —

 

Teacher


I started working in early childhood education when my youngest son was three years old. That was 25 years ago in Southern California. I started as an assistant and quickly became a Threes teacher for ten years. Our family moved to Maryland in 2000, and I taught Fours and Pre-K classes at a private preschool in the Derwood area for ten years. When my husband had a chance to work in Australia for a year, I took a sabbatical and we went Down Under for a year. I worked at a child care center while in Australia, and exchanged our customs with the children there. Upon returning to the U.S., I returned to the preschool and taught for another two years. I co-founded and helped manage an after-school enrichment program and taught those classes for 18 months, but wanted to return to the classroom exclusively. 
When not at school, I volunteer as a puppy raiser for Hero Dogs, an organization which provides service dogs to our veterans. My husband and I like to spend some of our free time with our two sons and their wives. Now I am at Temple Isaiah and looking forward to a great year! 
---
Wendy Lake —  Assistant Teacher
---
Jungyoon Park —

 

Teacher
---
Ann Pollack — Assistant Teacher

I grew up in Laurel, Maryland, and attended University of Maryland, Baltimore County, graduating with a degree in English/Psychology, followed by an MSW from University of Maryland in Baltimore. I am a teacher's assistant with Morah Jen in the Twos class and I am excited to be a part of the TIPS community. I love engaging with the children as they learn and have new experiences.
I am married to Ken and we have three sons: Evan, and twins Jared and Miles. We have been members of Temple Isaiah since 2009, and the boys attended Religious School here.
---
Susan Sandler —

 

Assistant Teacher

I have been an assistant teacher at Temple Isaiah Preschool for almost 10 years. I started out as a volunteer mom when my son was in the Fours class, and then I became an assistant teacher in the Twos classroom, later working with the Threes and Fours classes. I feel very fortunate that I have worked with all the different ages of the children here at the Preschool. I enjoy playing and learning with the children and watching how the children discover and try new experiences in the classroom!
I am married and my husband Paul and I have two children. Sarah (21 years old, senior at Towson University, who babysits for many of the preschool children here!) and Zach (14 years old, 9th Grader at Reservoir High School).
---
Lisa Wolfe — 
Assistant
Teacher

I was born in Boston, Massachusetts and grew up in the Boston area until I moved to Northern Virginia. I attended Virginia Tech, graduating with a degree in Hotel, Restaurant Management. I worked in hotels for several years until I got married to my husband Ted. We have two children (Dawson, 17 and Mia, 12) I had been working on a Master's in Teaching when Dawson came along and decided to become a stay-at-home mom, which I have been for 17 years. I volunteered for several years as the Co-Chair of the Clarksville Elementary School yearbook, which was great fun because I got to take fun photos of the children. I am very excited to be working at Temple Isaiah Preschool as the Assistant Teacher to the Twos class with Morah Jen. It will be a fun and exciting year ahead!
---
Stephanie Youngworth — Teacher
I was born in Washington, D.C., and grew up in Potomac, Maryland. After graduating from the University of Maryland with a degree in Psychology, I went on to receive my MSW at the University of Maryland in Baltimore. For seven years I worked as a clinical social worker at a private school for children with behavioral and emotional challenges.
I have been married to Phillip for more than 14 years and have two children, Jacob (12) and Joshua (9). Jacob and Joshua both attended Temple Isaiah Preschool, where I started as a substitute teacher; I am currently the lead teacher with Morah Ann in the Twos class. I am thrilled to be working at Temple Isaiah with all of the staff and wonderful children that attend the school. In my free time, I enjoy spending time with my family, reading and exercising.