Over four weeks, 6th Grade students at Kulanu learned about the Jewish value of Bikkur Cholim (Visiting the Sick) and the work of the Temple Isaiah Care Committee through hands-on work to support individuals and families within our community.
First, students had the opportunity to hear from Ellen Strichartz and Barbara Davis about how they have been supported by the Care Committee, and the many ways that the Care Committee works to help others.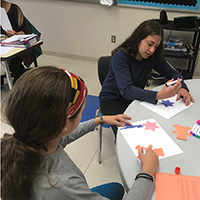 Over the next three weeks, students took on three different projects to support the work of the Care Committee: they baked muffins to freeze and give to families who need meals during a time of illness or mourning, made get well cards that the care committee can use to send notes to congregants experience prolonged illness, and made cards and signs welcoming in new babies to our congregational family.
To learn how you can get involved with the work of the care committee, contact the Temple office.